Getting Started with Demo Gorilla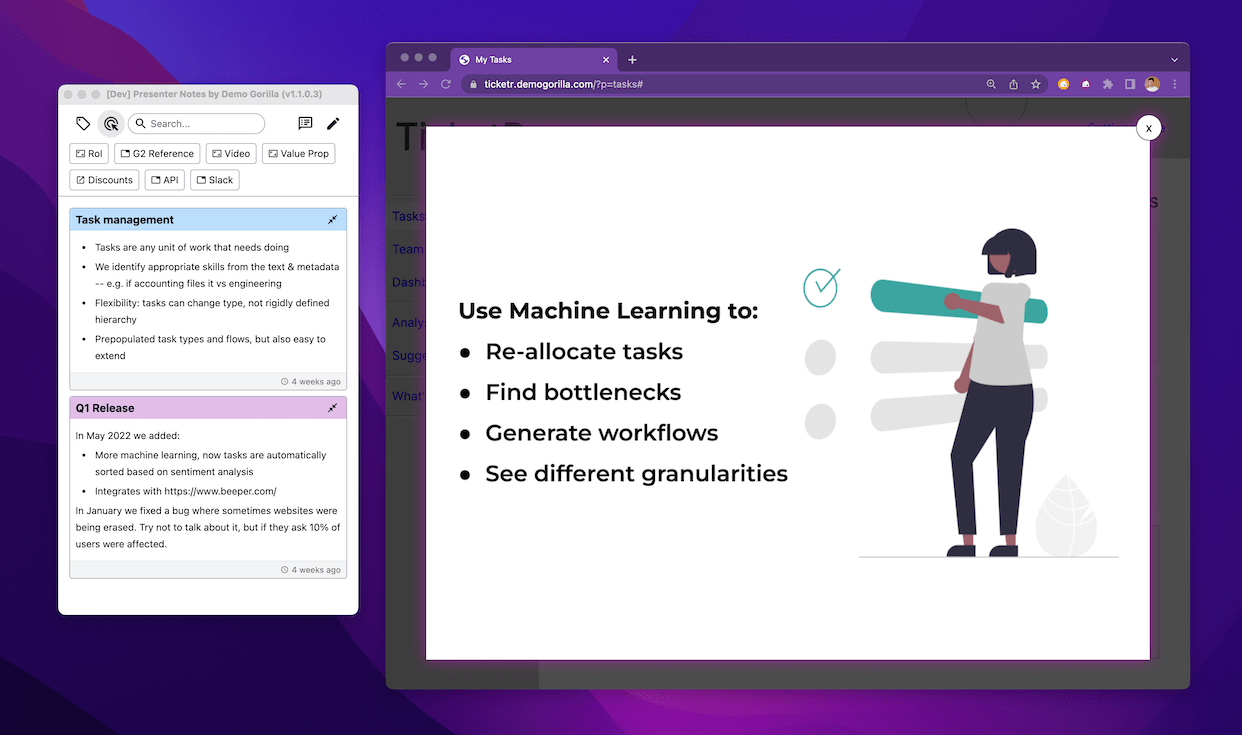 At the end of a great demo your audience should see themselves using your product every day to do their job better. That means you want to:
Show what they want to see, not what you want to show
Have them see themselves in your demo by using examples & stories that are relevant to them
Sell value, don't explain features
Personalize your responses to your audience
This can be very challenging — and on top of that you need to keep up to date with a fast moving product and scale your demos out to a growing team.
Here's how to set up Demo Gorilla to help you:
---
You know your product very well — probably too well. When we're showing off our powerful features we often forget what makes a demo resonate for the viewer:
Value: We talk about what a feature does instead of what problem it solves
Consistency: There's a best way to explain each use case, that doesn't mean you need to script it verbatim
Customized: Don't tell a bank how a small media startup uses a feature
Improve it over time: Does one specific talking point not land? Maybe one sales rep came up with a better way to explain something. Those improvements need to make it upstream
Demo Gorilla calls the content you rely on to demo "Talking Points".
How to build out your talking points
Feature specific talking points by URL
The most challenging part of a demo is keeping it dynamic. It's hard enough to remember everything to say about all the features, but to do it in response to what's relevant to a particular audience and resisting the urge to simply follow a script is even harder.
Customers want you to solve their problems, so show you understand their problems by only demo-ing the most relevant parts of the product. If they wanted to watch a scripted video, they would have just visited your marketing page.
Demo Gorilla handles that by matching Talking Points to URL patterns. As you navigate the app, talking points automatically update to match whats on screen.
Remember not to describe the feature, but sell the value; how your product handles their use case is more effective than narrating your clicks.

Specific talking points for personas, verticals or use cases
You can do the same for anything specific to personas. If there's something specific you need to remember to explain to manager, tag that with "persona-manager" and it'll only show up when manager is selected.
Have multiple use cases that might be selected at the same time? Use a simple tag like "backend" or "frontend" and they'll display as buttons the demo-er can enable or disable separately.
Tags are very versatile. You can use them to:
Add some detailed talking points to use for new demo-ers, just tagged as "training"
Add tags that filter talking points by stage, if you want to focus on different benefits for a first demo vs a second one — or an expansion

Competitive talking points
Competitive talking points work almost the same as regular talking points, but the UI highlights if they've gone stale. You'll want to tag them with the competitor's name obviously.
Searchable Content
Sometimes you'll have talking points that you only need to use if a prospect asks. It's hard to make a compelling demo where you talk about compliance features, but if they come up, you'll want to have an answer.
Any talking points in "Searchable Content" will only show up if you search for them. Searching will search all talking points, so you don't have to worry about missing an answer.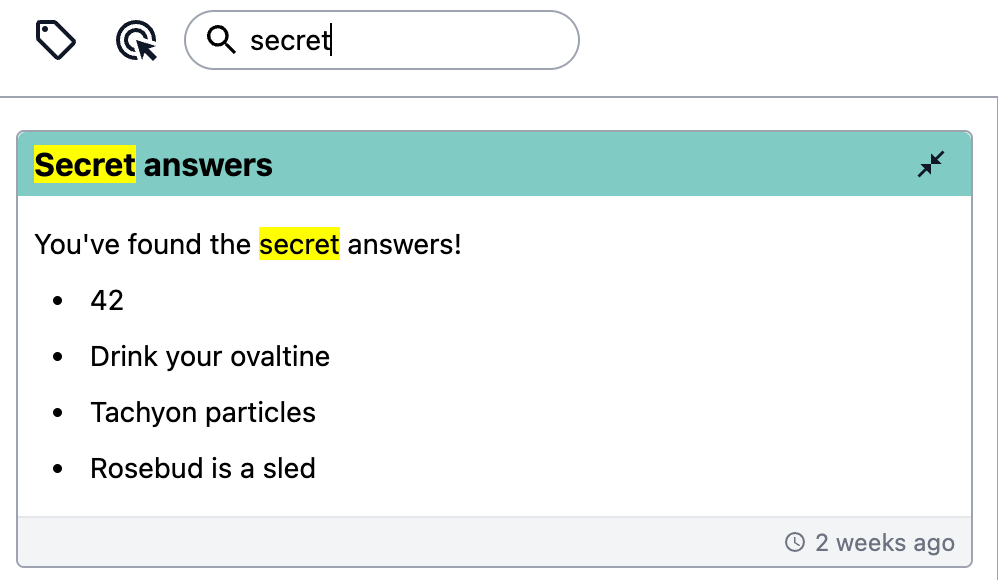 Product Updates
You're shipping so many new features — don't forget to add them to the product update talking point(s) once they're live. Product update talking points also support tags & URL based filtering for advanced use cases.
Best practices
Use bullet points: A live demo is not the time to learn about features for the first time (hopefully!)
Talking points support markdown, use that sparingly to help guide your readers' eyes
Long talking points will automatically scroll so they don't take up too much screen space
Include all the qualifiers: what's in beta, only on one pricing plan etc
Talking points across integrations
Your product isn't an island, prospects want to know it'll work easily with their other tools. Showing integrations is one of the most challenging things to demo though — it's not your product! Demo Gorilla seamlessly transitions across multiple products.
---
You have a lot of great marketing collateral — probably too much. Don't make your prospects sit through all of it before getting to the demo, dive in quickly and pull in content to set the stage as needed.
A common failure mode of demos is to show 30 slides, expecting the audience to pay attention and remember all of the terms and then jump into the demo hoping the context gets retained.
Your demo is the exciting part, get to it sooner and intersperse the content.
Slides & images
Your demo is telling a story. It's a story that you know well, but you need to bring your audience along for the ride. The easiest way to ensure everyone understands is overlaying graphics directly into the demo.
With Demo Gorilla, this is easy to do — take the URL for your graphic and create a "Popup Button" that will fade the screen and show your graphic. To make it disappear click the button again, or use the X.
Websites
You have websites that tell your story, Demo Gorilla helps you inject relevant content in a few ways. Create an action and change the type.
To embed interactive content like an RoI calculator directly inside your demo use a "Popup button"
If you want to open a bookmark in a new tab, there's an option for a "New tab button",
If there are parts of your application that take a few too many distracting clicks to get to, you can create a "Navigation button"
If you're only sharing one browser window and you have an internal reference, like a price sheet, you can open it surreptitiously with the "New window button". Obviously you'll only want to use this when you are sharing a window or tab -- not the whole screen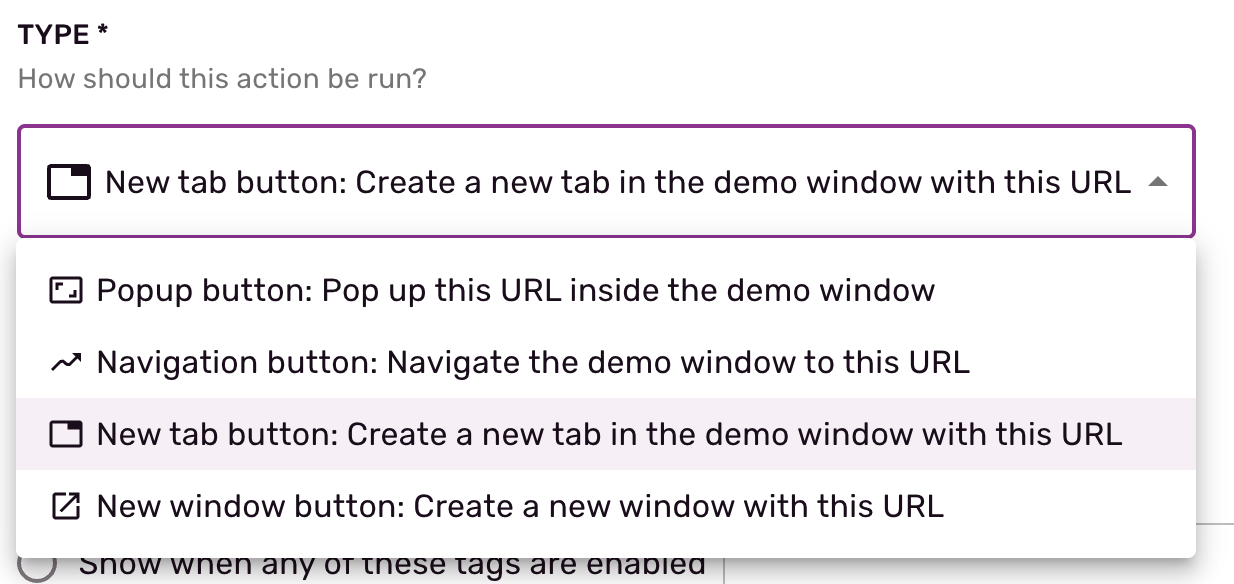 Case studies
You have 2 options to bring your case studies to life:
You can add them as talking points, using tags to show only the relevant ones. Tag them with "vertical-finance" or "vertical-F500" and we'll automatically create a drop down for you so you can always use a customer story that resonates with this prospect
Sharing them directly inside the demo as a URL in a popup window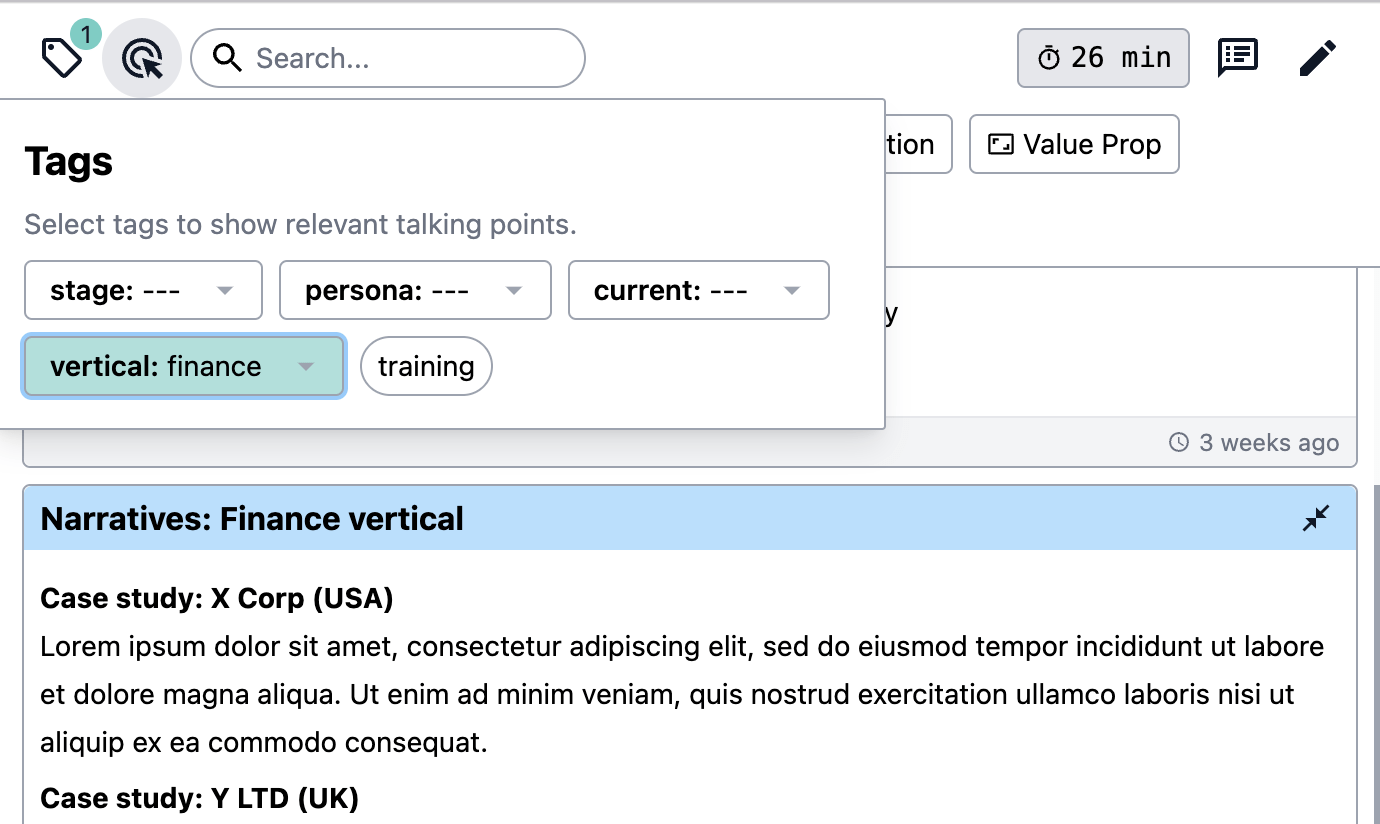 Advanced Actions
All actions can be filtered by tags and URLs, so if you have popups that only apply to a specific persona or part of the product, you can keep your actions uncluttered.
You can also change the sort order to affect the order the actions will show up in the presenter notes.
---
Connect to your Google Calendar
Once you connect Demo Gorilla to your Google Calendar from your profile page, the presenter notes will automatically show:
The meeting name & attendees in the notes section
A timer counting down to the end of the meeting. This will turn yellow with 10 minutes left, and red with 5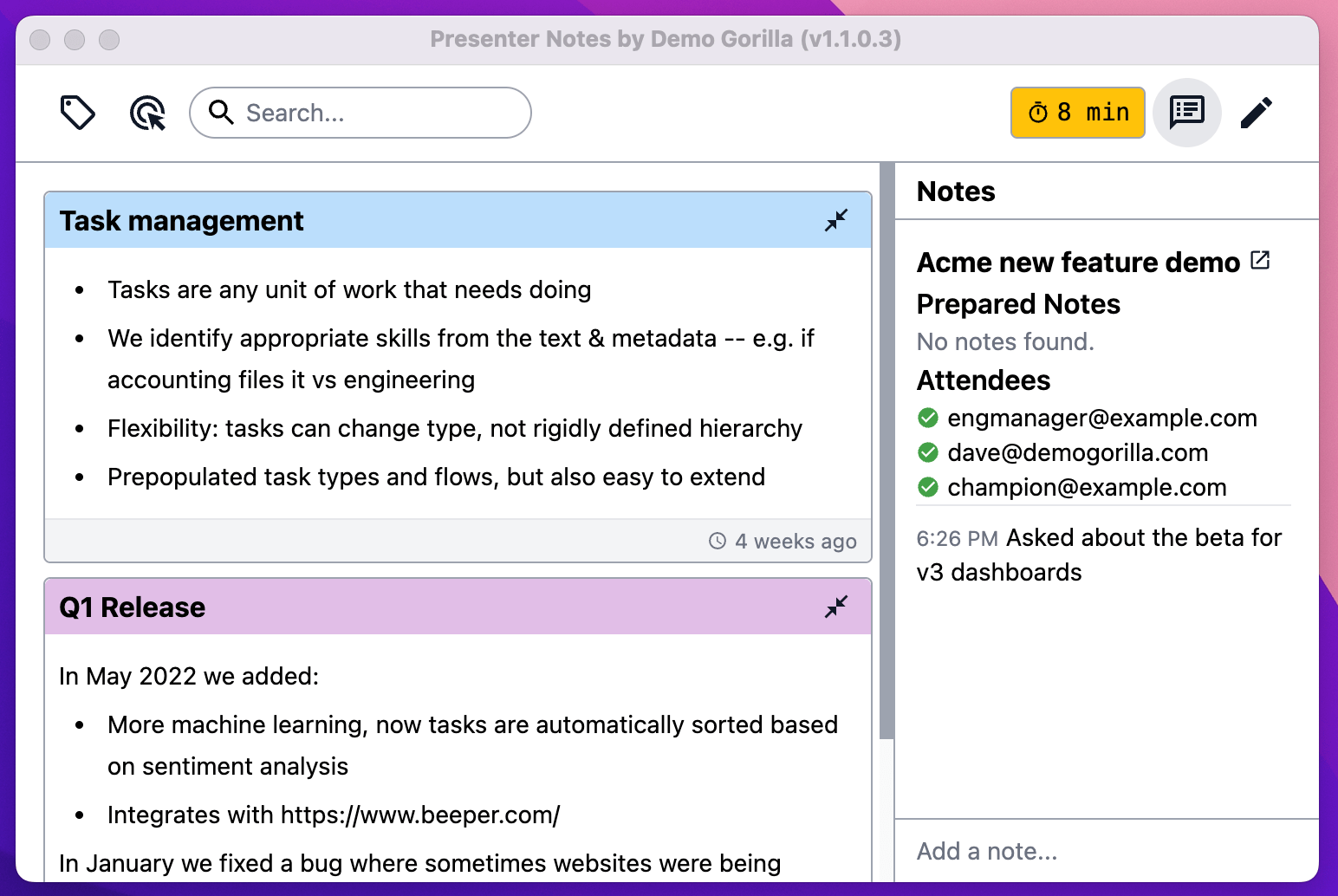 Cursor Highlight
Since it's you controlling the mouse, not your perspective users, Demo Gorilla gives your mouse a halo effect, making your cursor easier to spot during a live demo.
This can be disabled and the color customized by going to the settings page.

Customize CSS
Your product can't be both optimized displaying on users' machines AND on demos over video conferencing. Demo Gorilla lets you inject custom CSS to bridge that gap:
Hide popups from tools like Pendo & Intercom that don't apply in a demo
Hide clutter that doesn't apply in a demo: "What's new" or "Complete these steps to finish setting up your account"
Enlarge fonts on key text and increase contrast on colors to make everything more clear on a compressed video call